DIY leather stamping tools create your own unique designs to be different and have your own leather tools made to your liking.
A quick summary of how I made the Serpentine leather stamping tools. First I drew several designs onto heavy poster board and then gently cut the pattern shape out with a leather craftsman knife with a new curved blade so the pattern would be crisp and clean.
Then I went over to my Bit and Spur Making shop and dug around for some steel and found some Hot Rolled 3/8″ x 3/8″ and some 1/2″ x 1/2″ stock and cut my blanks out at 4 3/8″ in length overall for each tool. I used an abrasive cut off wheel to make a clean and straight cut.
Next step in making my Serpentine leather stamping tools was to use some blue layout dye on the end of the metal so I could scribe my pattern onto the end of the tool.
Now it is time to shape the tool shape on the end and I use an abrasive cutoff wheel and a special setup I have mounted on a Baldor number 114 buffer motor… You can use what you have are even a Dremel tool should work. It is possible to make these tools with round and triangle files that you can pick up at the hardware store just takes a little bit longer that's all.
After I had the tool shaped ground and filed to the shape I was wanting I just simply sanded the end of the tool smooth and then lightly polished the face and that was it. And you see the finished leather stamping tools here in this leather stamping tutorial.
The tools I used are a buffer and a belt sander and hand files. A good resource for metal working tools materials and supplies is Jantz Knifemaking Supply in Davis Oklahoma. Find them online at knifemaking or call and ask for a supply catalog you will be surprised at the content in this catalog that you can used in the leathercraft shop.
Serpentine leather stamping tools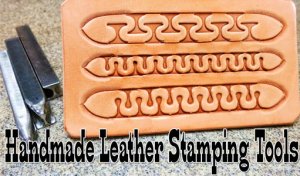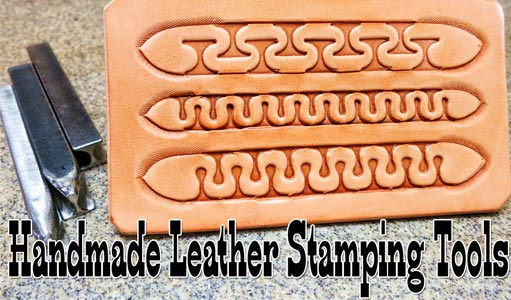 Article and Video by Bruce Cheaney
Gainesville Texas USA