Leathercraft Article and Video by Bruce Cheaney
Leather iPad case making
Case making How to make a leather iPad case leather working tutorial hand sewing thick leather can be a tough challenge but this leathercraft tip will really help you.
Hand sewing four layers of vegetable tanned leather can really be tough so I came up with an idea of using a Craftsman variable speed rotary tool with a 1/16″ drill bit and that really saved me a lot of time and labor.
The stitching is what I call a pop stitch and I space the stitches a quarter of an inch apart and one quarter inch in from the edge. This type of hand sewing saves time and is somewhat forgiving if I need to shorten up or lengthen a stitch a little bit as you can see in the video.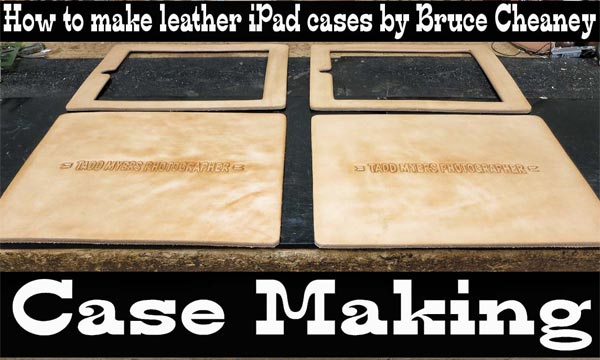 The vegetable tanned leather I use for making these leather iPad cases came from Tandy Leather in Fort Worth Texas and I am very pleased with the leather cut out and edged as well as carved with a swivel knife.
Learn more about Dremel Tools
Find leather working tools and leather at Tandy leather
Thank You for stopping by The Leathercraft Site