Knife sheaths How to make leather sheath with leather working tools
Article and DIY Videos by Bruce Cheaney
This leather working tutorial will give you some insight on making knife sheaths quickly and efficiently.
Be sure and watch part two when I sew the knife sheath on my cowboy harness stitcher sewing machine.
How to make knife sheaths – Part 2 – DIY Videos – Knife sheath making. Sewing custom leather knife sheaths on a cowboy harness stitcher sewing machine through multiple layers of vegetable tanned leather.
This knife sheath making tutorial is Part 2
I show you how easily and efficiently you can sew your handmade leather knife sheath on a modern day harness stitcher sewing machine.
Once the sheaths have been sewn I show you how to trim the excess off of the bottom layer of leather and then edge the leather with my C.S. Osborne style number 133 western edgers sizes 1 and 2.
Also covered in the knife sheath making tutorial I show you how use a copper rivet to attach a latch strap over the sheath for the fillet knife sheath then set the snap using my Craftool snap setter for Line 24 snaps.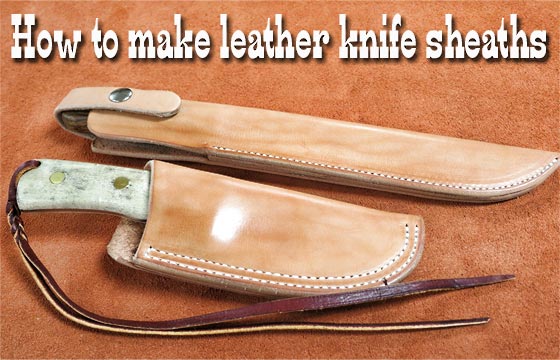 How to make a custom leather knife sheath DIY Videos by Bruce Cheaney leathercraft and leather working instructor find more on YouTube