Leather sewing machine. Sewing leather belts, saddles, knife sheaths and holsters with the Cowboy CB-4500.
Leather sewing machine. Lets take a look at what this leather sewing machine can sew and stitch first a leather belt single ply around 10 ounces thick then the next item is a piece of suede leather glued to a piece of closed cell foam rubber a mock up of a piece I sewed for a saddle seat and the next pieces you see in this sewing machine review are saddle parts a flank cinch and flank straps double in thickness saddle skirting 13/15 ounce on top and 10 ounce latigo lining.
As you can see this Cowboy CB-4500 leather sewing machine and harness stitcher is very versatile and can sew thick and thin leather with ease.
I like to use white polyester thread and numbers 200 and 230 sewing machine needles. This machine will sew with much lighter thread if that's what you want and like perhaps size 277 and a 180 sewing needle.
I have sewn many types of materials on this leather sewing machine like Nylon and Cordura Kevlar including backpacks and tow straps.
Leather sewing machine
There are two options for sewing guides one is the drop down guide like the one I have and the other is a guide that screws to the plate on the bottom by the walking foot and needle.
The Servo motor is a real neat thing that allows you to sew your leather a your own pace and as slow as you would like.
Contact Information for The Cowboy Sewing Machine and Harness Stitcher
Article and Video by
Bruce Cheaney
Gainesville Texas USA
Leathercraft Site
You are welcome to subscribe to my Bruce Cheaney YouTube Channel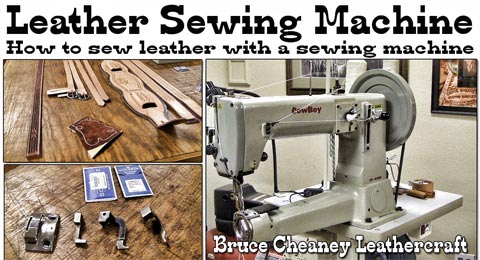 Thank You reading and watching; How to sew leather with a sewing machine Leathercraft Tutorial