Leather Supplier Review Frogjelly.
Just received five sides of vegetable tanned leather from Frogjelly Leather. This is a leather review for leather craft and leather workers.
In this Frogjelly leather review I show the different weights and thicknesses of the leather that I just received from the Frogjelly leather supplier.
First I show you the 2/3 ounce Economy Lightweight side that will be great for lining belts, spur straps and purses and more.
Next I show you the European Natural Veg Sides 3/4 ounce, 4/5 Ounce and 5/6 oz vegetable tanned leather from Frogjelly Leather.
The next side of leather is a Natural Strap Side that is 8/9 ounce in weight and this side of leather is fairly blonde color.
Frogjelly Leather
Leather swatches are the last pieces of leather that I show at the end of the leather review just to give you a idea of the leather that you can get from Frogjelly Leather. Hope you enjoyed the leather review video. Give Frogjelly a try I think you will like their leather and services.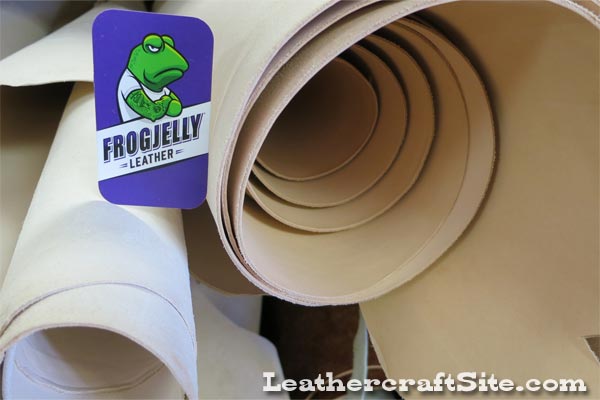 Frog Jelly Leather funny name easy to remember!
Article and Video by Bruce Cheaney Leathercraft Site
Visit Frogjelly Website and see all the great looking leather and supplies.
Contact information for Frogjelly Leather 7501 HWY 287 Suite A1, Arlington, Texas 76001 Phone Number 817.969.5150