Knife Sharpening How to Sharpen Leather Working Knives
Article and How to Video by Bruce Cheaney
Sharpen your leather working knife quickly!
The leather craftsman trim knife blades are delicate and I do not use an aggressive stone to sharpen the curved blade. I start with an India Stone medium grit and lightly sharpen the edge about three strokes per side and then go to a finer wet stone like a Black Hard Arkansas wet stone and lightly use a circular motion on each side of the knife blade. Once the leathercraft knife blade has been honed I use a piece of vegetable tanned saddle leather with Simichrome silver polished embedded on the grain side and strop the knife blade to polish the steel and put the finishing touch on the sharpening job.
Tips for sharpening your leather craftsman trim knife. I lightly use a India wet stone then go to a Black Hard Arkansas wet stone then strop the knife edge on a piece of vegetable tanned leather. The leather has a thin coat of silver polish rubbed onto the top and when you strop your knife blade it becomes highly polished and sharp.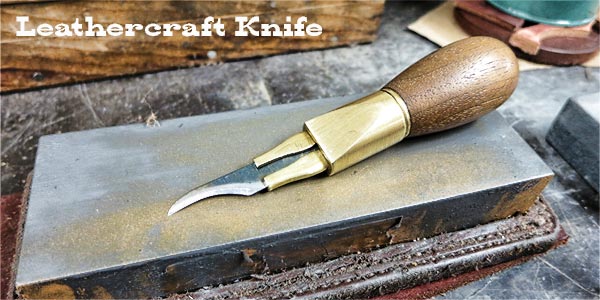 Sharpen leather knife with Smith's Product's
Smith's Products since 1886 has been a trusted name in the sharpening industry for over 125 years.
Tandy Leather has this knife and they call it the Industrial Knife Set part number 3595-00 and sell the blades in three packs called #9 Blades part number 3596-09 Tandy Leather Website.
Weaver Leather has this leathercraft knife and they call it the Craftsman Trimming Knife part number 65-2976 and you can get a pack of 12 curved replacement blades part number 65-2977 Weaver Leather Supply Website.
Some of the nice feature of this leather trimming knife are custom turned walnut handle with solid brass jaws and ferrules for loosening and tightening the blade.
You can also find this industrial leathercraft knife on Amazon